Book your table
Your room
starting from €
Best price guaranteed
Price unavailable for selected dates
Soit - € by booking on our site!
Book your table
The Amphitryon, the restaurant of the Hotel Le Boeuf Couronné in Chartres, a recognized address ... not to be missed ...
"The real Amphitryon is the Amphitryon where we dine" Molière, Amphitryon 1668
Ideally located, between the cathedral and Chartres station, close to the historic center and shops, the restaurant l'Amphitryon has become recognised over the years.
Welcomed by an attentive team in a warm and friendly atmosphere, you will enjoy cooking that is recommended by many gastronomic guides, in a refined setting with a breathtaking view of the cathedral from our dining room or our terrace, in the summer season.
Delicate market fresh, original and tasty cooking, created by Michèle Celozzi the young chef who revisits traditional dishes according to the seasons.
Our restaurant can be enjoyed with your choice of half-board, special "group" formulas (capacity up to 60 seats) or "Business half-board".
A LA CARTE
STARTERS
| | |
| --- | --- |
| POACHED EGG FROM PERCHE REGION, VEGETABLE BRUNOISE WITH VANILLA , KADAIF PASTAS, POULTRY JUICE  | 11€ |
| BROWNED SAINT-MARCELLIN CHEESE, GUANCIALE A.O.P. BACON AND CHANTERELLES | 12€ |
| French pâté, poached pear, fried fruits and chutney | 12€ |
| FOIE GRAS COOKED IN LOW TEMPERATURE, GRAPE CHUTNEY, CRUNCHY BRIOCHE BREAD CROQUANT | 15€ |
| POACHED OYSTERS, QUINOA GRAIN OF EURE ET LOIR, SOUR TARRAGON CREAM, IODIZED EMULSION | 15€ |
See the menu
MEATS AND FISHES
MEATS
| | |
| --- | --- |
| Chicken from Eure et Loir stuffed with dried fruits, « Nid d'hirondelle » pastas with cabbage, crunchy of celeriac | 22€ |
| French veal filet cooked with onion vegetable carbon , mashed potatoes from Eure et Loir and carrots | 25€ |
| Calf's head, potatoes and carrots, gribiche sauceE | 21€ |
| MAIN COURSE OF THE DAY - From monday to friday, excluding bank holidays | 20€ |
FISHES
| | |
| --- | --- |
| Back of cod fish with crust sorrel, spinach jelly, pumpkin seed from Eure et Loir, sage cream | 22€ |
| Tuna Tataki, beets, soya shoots, tériyaki sauce | 24€ |
| Spinach jelly, « Nid d'hirondelle » pastas ,mashed potatoes from Eure et Loir, romanesco broccolis | 18€ |
See the menu
CHEESES AND DESSERTS
CHEESES
| | |
| --- | --- |
| ASSORTMENT OF CHEESES | 10€ |
| PLATE OF REGIONAL CHEESE | 6€ |
DESSERTS
| | |
| --- | --- |
| Salted butter caramel eclair | 9€ |
| Apple compote from Eure et Loir, puffed rice, black tea mousse and Sencha tea coulis | 9€ |
| Coffee with vanila tart, praline | 10€ |
| Macaroon of roasted almonds, Fig and blackberry compote, Java pepper cream | 10€ |
| VARIETIES OF DESSERTS SERVED WITH A COFFE OR TEA | 10€ |
| VARIETIES OF DESSERTS SERVEC WITH A GLASS OF CHAMPAGNE (8cl) | 14€ |
| LEMON SORBET, RASPBERRY SORBET ANS PEAR SORBET WITH LIQUORS | 9€ |
| THE DESSERT OF THE DAY, FROM MONDAY TO FRIDAY, EXCLUDING BANK HOLIDAYS | 9€ |
See the menu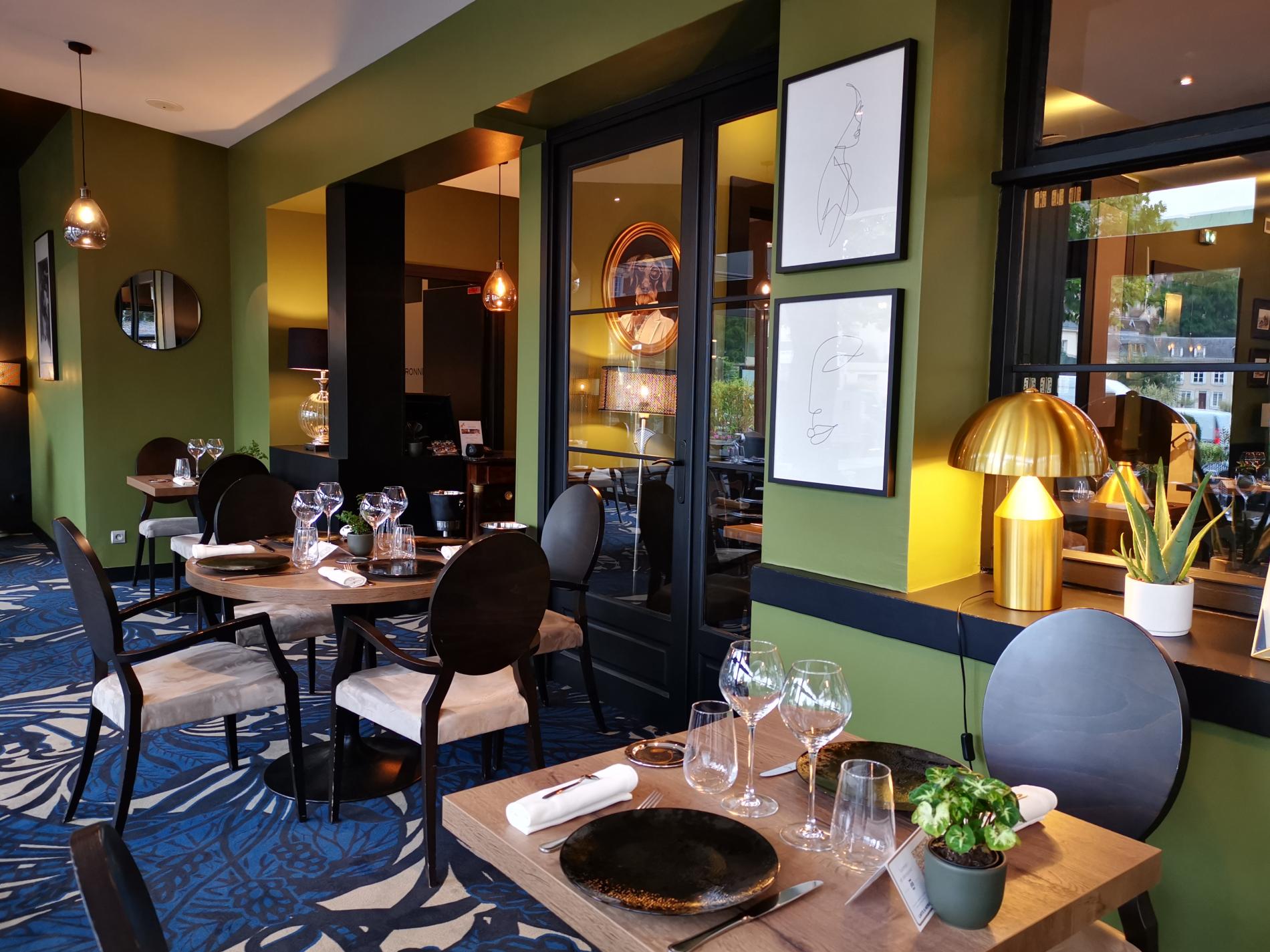 Our services

&

equipment

- Terrace and dining room with views of the cathedral
- Groups of up to 60 persons
- Access for disabled guests
- Public parking nearby
- Business evening stopover
Restaurant opening hours
Lunch 12:00 - 13:45
Dinner 19:00 - 21:00